A quilt with no name
I couldn't think of a name for this mini, but I don't really need to as it's going to be flying outta here tomorrow to my Schnitzel and Boo swap partner, just got to get some edibles for the package!
The quilting is just messing about with a few decorative stitches. I seem to remember they go bigger than this but I must be wrong as I had it on maximum width. I left/lost my basting pins at the meeting on the weekend so my walking foot did an excellent job of not bodging up the back…
I forgot my machine had a fonts and programmable alphabet, I think I'll do all my quilt labels like this from now on. By which I mean I'll actually start labelling my quilts. The back also has a couple of triangles to help with hanging. I'm not sure I did the flange bit right, maybe I should have read up on it rather than just going for it?
Just one more swap quilt to go – and start. Just got to pluck up the courage to try out my idea.
STATS
Size – 24 1/2″ square 
Number of blocks – 16x courthouse steps blocks
Time to make– 6-7 hours
Fabric – Scraps and FQs of all sorts- Lily Ashbury, Cotton and Steel, Heather Bailey, Alison Glass, Amy Butler….
Backing Fabric – Ikea Nummers
Binding Fabric – Robert Kaufman black and white heavy check fabric with inner flange of aqua Sketch.
Threads – Coats Moon throughout
Batting – 80/20 Soft and Elegant offcut
Quilting- Machine stitch presets of scallops, wiggles and crosses.
This is my first finish for the 2015 Q1 Finish Along.
Also linking up with Scraptastic Tuesday.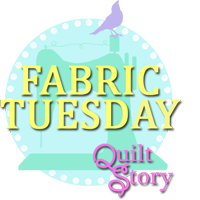 And Fabric Tuesday as well, why not?