Vote for me on Spoonflower
Well today there was a bit of a quilting bloggers meet-up at Susan's. I'm not cool enough to be in Brit Bee* but it's not too far from me so when I read about it this morning and saw there would be cake I decided I would gatecrash at last minute since I had nothing else planned. Problem is I took a job last night doing some layout work for a woman on PeoplePerHour which was supposed to go to print "early" this morning. I finished it for 8.15am. She then accused me on email of not doing the work when she hadn't even checked onto the interface and as such I've been stuck in all day waiting for her response to my pointing this out. I am feeling a bit bitter about this. It's gone 7pm and I still haven't had a reply or a thank you. I'm a new user and I really don't want the negative feedback but I am upset that she has taken over my day (I didn't know I was going to want to go out at the time of taking it, but still!) for the sake of a tiny 2 page layout £20 job that I only got offered at 9pm last night. Needless to say I bet she doesn't pay me despite doing three layouts and spending 12 hours refreshing my screen.
(* not the real reason!)
Anyway tiny text rant over, I try not to be too negative on the internet, I save that for real life 😉 I'm sulking and eating my own cake, followed by sitting in a big bubbly bath with a beer watching NHL Gamecenter, more on the cake tomorrow.
What I really wanted to post about today was my entry into this week's Spoonflower contest. I'm going to enter more often, but this is my design for the 3-colour 60's wallpaper inspired contest (full FQ scale):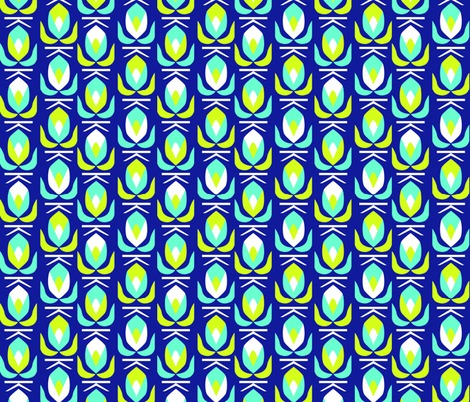 There are some really fantastic designs (and some super horrendous ones) and this theme is right up my street so I may well buy a FQ bundle once the top 10 have been picked. Mine is nowhere near the top of the pile but I would appreciate your vote if you could be so kind and you have a bit of time spare. To vote you do have to scroll through clicking all the ones you like until it decides to show up and click it to vote, but they show up in a random order! Once you get to the end of all 25 pages you can cast your votes. Voting ends maybe tuesday or wednesday next week.
Want to see which I voted for? Click here…
I'm going to enter again soon for practise, next week the theme is frogs and you have until tuesday to get entries in, tell me if you enter!