Quilters Favourites
I'm getting in just in the nick of time to participate in this…
The last day to link up with
Geta
is today! Click the button above to read the other posts with tips from other quilters. Here are mine, hopefully something here will be useful to somebody! The idea is we discuss successes and mistakes in quilting and hopefully everyone will learn something from one of the people taking part.
List a few of your favorite quilting notions. 
Snips. Much quicker and easier to manoeuver than scissors and a ton better than the thread cutter on my machine. They cost me 99p and are probably my best purchase ever for how much I paid and how much I've used them. And they're still going strong!
Also big fat 100 or even 110 needles for paper piecing. They don't mind going through all those layers so much.
Any advice for a successful colour scheme of a quilt ?
Don't overthink it. Most colours go with each other in either a complementary way or a contrasting way, choose what you like first and foremost. You can also choose a colour scheme by deciding what to leave out rather than what to use.
Some thoughts about thread?
Not all thread is born equal. Aurifil is a good top thread but it's not the best for the bobbin. Also don't feel you have to use 100% cotton- polyester is stronger and has less lint. As long as it's good quality.
If you enjoy other quilt techniques than patchwork, could you share some tips with us ?
The easiest type of turned edge applique to do is with a glue stick. Iron a freezer paper template onto the right side of the fabric, roughly cut around, snip and glue those edges under with Pritt Stick. Then you can sew.
Machine quilting tips
Don't be scared of trying new things and relax your shoulders otherwise it will hurt. Take regular breaks too so you don't stress your back. Work on a quarter of the quilt at a time so you don't have to bunch up a ton of fabric under the arm of your machine because it's really not fun to quilt like that.
Tips for organizing the sewing tools, the fabrics, the sewing studio? 
I keep my fabrics on comic cards. With FQs I fold with the selvedge to one side and wrap this around the card first so I'm cutting from the non-selvedge side straight off the card. I stack them on my shelf by colour which really helps. I also have a rack of threads on the wall which keeps them tidy and I have an Ikea spice rack on the wall to stand books in above my machine so I can refer to them as I work.
Could you recommend a book to someone who just started quilting ? A quilting bible ?
Yes it's called The Quilter's Bible! Seriously! It's by Lynne Edwards and covers all of the techniques, even obscure ones. I get this book out and refer to it every once in a while still, I think it has been one of my best purchases.
Do you have a favorite online quilt shops ? What makes it special ?
I like Pink Castle Fabrics. I get my purchase very quickly despite having to come over the Atlantic and it very rarely gets held up in customs. Good value for money and good choice too.
Don't Do Like Me!
This tool doesn't work for me- I can see how it would on a smaller ruler, but on my old faithful one it just means I slip later on as the pressure isn't distributed well.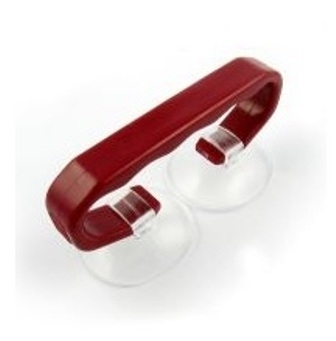 Also half rectangle triangles- this technique doesn't work for rectangles other than those where the length is twice the width. I've tried it, honestly it is frustrating! The best way to do irregular ones is to paper piece I'm sorry to say.
Have fun!